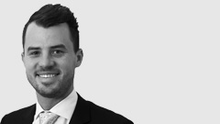 Sales & Marketing Consultant
A young, enthusiastic and ethically focused sales professional, Jamie Baker is an agent who is sensitive to the needs of his vendors and committed to providing premium results. Confident and driven to succeed, Jamie understands the importance of creating relationships built on trust, accountability and outstanding customer service.
With a career spanning ten years, Jamie is attuned to the needs of buyers and sellers and proud of his extensive local market knowledge. Working from the Birkdale office he specialises in the Redland City and surrounding suburbs and resonates well with this mixed demographic of home owners and buyers.
Personable and intuitive, Jamie is committed to guiding people through the sometimes daunting process of buying and selling real estate. Appreciating the magnitude of their investment, he strives to keep vendors informed at each stage of the selling process and 'where things are at.'
- Ray White Elite Member (Top 2% in the group internationally) 2016
- Ray White Redland City No.1 Salesperson 2012, 2013, 2014, 2015 & 2016
- Ray White Premier Member (high level of sales success in the group) 2009, 2010, 2012, 2013, 2014, 2015, 2016
- Member of 'The Real Estate A-List' 2014 (top 1% of salespeople in QLD across all brands)
- Ray White South Brisbane 'Cadet of the Year' 2009
Agent Reviews
Rhonda

Hello Jamie I would like to take this opportunity to thank you for your wonderful feedback at all times whilst I have been looking for a property to buy. Even though I have bought through another agency, I have been really impressed with your attention and looking to accommodate my needs at all times. I was a little difficult to coordinate at times due to my work commitments and appreciated you doing the best for me. I wish you all the best going forward and believe with your wonderful attitude you will be very successful. All the best, Rhonda