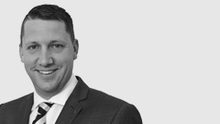 It would be hard to find a more experienced real estate agent than Levi Van Dijk.  He started in real estate when he was 17 years old and can't remember a time when he was not helping clients find their dream home, he still has the same level of energy and excitement about the job as when he first started.  An enthusiastic agent with a refreshing approach to his profession, Levi enjoys real estate's constant challenges.  His highly competitive approach to securing the best outcome for every client and firm belief in consistently delivering six-star service are reflected in a proven track record of outstanding results.
Agent Reviews
Brent & Lauren Ferguson - Purchaser Review

My wife and I have just purchased our first home and couldn't be happier to have dealt with Levi. Right from the start we felt comfortable dealing with Levi, after viewing the home and putting in an offer, the negotiation was done the same afternoon! All communication has been fantastic, Levi always returns calls and emails and has really made the whole experience of purchasing our first home a very easy process. My wife and I would have no hesitation in recommending Levi/Ray White Birkdale. Cheers, From the Fergo's.